Private driver in brussels Tomorrwoland 2018
MVP, minibus, coach VIP rental with driver for TOMORROWLAND 2018.We offer a shuttle service as well as transfers for "Tomorrowland" from the hotel in Brussels, Price 25% discount, we  offer executive luxury chauffeur driven car hire services,Personal car & driver as from pick-up to drop-of at Brussels Airport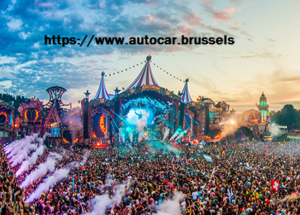 Where and when is Tomorrowland 2018?
Tomorrowland takes place at recreation area De Schorre in Boom, Belgium.
The town of Boom is situated between Antwerp & Brussels.
Dates
Weekend 1 Friday July 20th 2018 – Sunday July 22nd 2018
Weekend 2 Friday July 27th 2018 – Sunday July 29th 2018
What is the minimum age to attend Tomorrowland?
The minimum age limit to enter the festival is 18. People born in 2000 will be granted entrance even though they turn 18 after the festival. Anyone who turns 18 in 2018 is permitted entrance.
This is a strict policy and anybody born in 2001 or later, even if accompanied by an adult, will not be permitted entrance.
What are the check-in hours to the festival site?
CHECK-IN
On Friday & Saturday:
The check-in to enter the festival site is open until 22h00.
Access will be denied after 22h00, even if you have a valid bracelet or confirmation ticket.
On Sunday:
The check-in to enter the festival site is open until 21h00.
Access will be denied after 21h00, even if you have a valid bracelet or confirmation ticket.
RE-ENTRY
Tomorrowland day Bracelet
No re-entry possible. When leaving the site, a new entry ticket is needed for new access to the festival site.
Tomorrowland Full Madness Regular/Comfort
re-entry is possible the day after.You cannot re-enter Tomorrowland on the same day.
DreamVille Bracelet
From DreamVille to Tomorrowland: You can enter Tomorrowland until two hours before closing
From Tomorrowland to DreamVille: For safety reasons you can only re-enter DreamVille every day as from 17h00.
Where can I register?
You can register here at the Tomorrowland website.
Total Immersion from Arrival to Departure
From the moment you touched down in Belgium to the moment you left, Tomorrowland had you immersed into their fantasy world. When arriving at Brussels airport, guests were greeted by a party of performers who immediately got everyone into the Tomorrowland spirit. It was a day before the festival gates were even open, yet the producers behind the festival wanted you to know that the party had already begun. Those same guests who were staying in Brussels were also treated to a surprise party that Thursday night at a secret location downtown. For those who were camping in Dreamville, the fiesta got started with the Gathering. It didn't matter where you arrived or where you were staying, no matter what, there was a pre-party for you that night before. What was even more delightfully surprising was what occurred the Monday after the festival had finished. After passing through the security at Brussels airport, I could hear faint thumping growing in the distance. Lo and behold, a DJ booth was set up smack in the middle of the terminal and Tomorrowlanders were treated to one last set before heading home.